Hotel & Resort Internships in Japan
Welcome to Japan Internships! In partnership with boobooSKI.com, we help youths from around the world secure short-term Paid Internships in Hotels & Resorts around Japan.
Why do an Internship in Japan?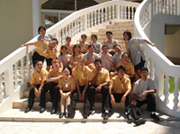 Our programs are identical to those offered at boobooSKI.com, except for the following differences:
Academic Requirements
For the duration of their Internship, student are required to keep a fortnightly journal in Japanese, and write a reflective essay about what they learn from the experience. Upon successful completion of the Internship, students will receive a Certificate to acknowledge their participation.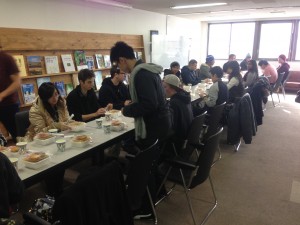 Course Credit
As international work experience and internships are not a common requirement in courses at many Universities, most opportunities do not carry credit but do provide a valuable experience by undertaking formal training in an international context. If you wish to discuss getting credit for your participation in Japan Internships, you will need to seek permission from your course co-ordinator, or the relevant Internship Placement Officer at your campus. Please feel free to Contact us anytime for further information.
Salary & Conditions for Japan Internships
Hourly wages are according to minimum wage in Japan.
Interns receive a monthly salary of approx. 130,000yen before tax per month**. (Currency Convertor)
Tax: 20% for foreigners on Working Holiday Visas.
Resort Hotels offer Meals & Dormitory Accommodation for interns at reduced rates.
Meals: Ski: approx. 15,000yen per month; Beach: approx. 5,000yen per month.
Accommodation: Ski: approx. 15,000yen per month; Beach: approx. 30,000yen per month.
Season Ski-lift Pass: FREE for interns at Ski Resorts.
Most Internships have a 40-48hr/week schedule (about 170-190 hours per month, 6-7 days off per month)**. An average day is 8am – 5pm (with 1-hour unpaid lunch break), however some positions may start earlier of finish later. Overtime work (10pm – 5am) is paid at 125% of hourly wages (and is expected during busy periods).
** Please note that the above work hours / monthly salary figures are only estimates, and can fluctuate greatly depending on how busy the Hotel is. No Hotel/Resort can guarantee minimum work hours, due to seasonal weather conditions etc. (eg. if there's no snow, that probably means less customers, which of course means not as much work time for everyone). Thank you for your understanding.
All Interns are covered by Japanese "Rousai" Work Insurance on the job.
Visit boobooski.com to learn more about our programs, and Apply Online today!
> Visit our Partner Website, boobooSKI.com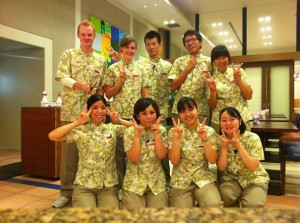 In Partnership With
Mentioned on