Our Japan Internship Programs
We offer Paid Hotel/Resort Internships all around Japan, and new Cultural Programs in Okinawa & Kobe.
Benefits of our programs include:
1. An insight into traditional Japanese culture and workplace ethics/rules, through a unique and enjoyable experience.
2. A great learning opportunity for students to practice and improve their Japanese skills.
3. An affordable alternative to study abroad programs.

What we Provide:
Eligibility Screening
To ensure you're suitable for Internships in Japan.
Access to all the best Hotels!
We've personally screened all our partner Hotels to check resort facilities, staff conditions, and Hotel managers. We only help you get internships at the ones you'll have the most rewarding experience at!

Comprehensive Assistance with:
Airfare, Working Holiday Visa, Travel Insurance, Japanese Resume… even Packing your bags!

Hotel Information Pack
Includes essential information about interning at a Hotel in Japan.

Cultural and Vocational Training
Work-related and Cultural tips to make settling-in as smooth as possible.

24/7 Support
You can call or Email us anytime for help preparing for your trip, and for the entire time you're in Japan.
Orientation and Delivery
We will deliver you from your city of arrival to your hotel. On the way, you will receive an Orientation to fully prepare you for your experience. This is covered by a one-off ¥10,000 transportation fee.

Help Registering your Address
Registering at city hall is compulsory for all foreigners in Japan.

Help opening a Japanese Bank Account
To keep your hard-earned paycheck!

Follow-ups
An English-speaking staff member will contact/visit you (and your hotel/resort bosses) regularly to check how everything's going, and help with any issues you may be having.

After Support
We'll give you support and information about what to do after your internship; like how to get other jobs in Japan, accommodation, good places to visit, etc. Even after your internship, we're still contactable 24/7 in case you need any help/advice at all.
Short-term seasonal paid positions, working in Hotels/Resorts around Japan.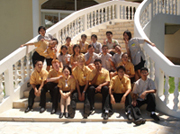 Combines Japanese language study, unpaid internship, & sightseeing all in one!
(Kobe & Okinawa only)