Our Japan Internship Programs
We offer 2+ Month Paid Resort Internships around Japan, and Unpaid Cultural Programs in Okinawa.

Our programs are the perfect start to a Working Holiday in Japan. Not sure if a Working Holiday is for you? Check out our Japan Working Holiday Guide!
What exactly is a Working Holiday?
Working Holiday Programmes are designed to foster young people with global perspective and enhance friendly relationship between Japan and partner countries/regions.
Since the Working Holiday programme is intended to promote greater mutual understanding, the applicant's primary aim should be to holiday in Japan. The programme is not designed for persons who mainly intend to work or study in Japan (for which purposes the appropriate visa should be sought).
To fully appreciate the many different aspects of Japan, it is advised that the working holiday applicant moves to different areas within Japan at approximately 3-month intervals.
Choose your Preferred Program
CLICK HERE TO COMPARE OUR PROGRAMS' COSTS,
CONDITIONS, AND CHECK IF YOU'RE ELIGIBLE
2+ Month Paid positions, working in Resorts around Japan.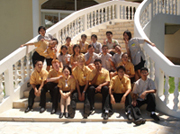 Combines Japanese language study, unpaid internship, & sightseeing all in one!
(Okinawa only)