Apply for Internship Programs in Japan
Simply apply on this website, and we"ll help you secure an internship at one of the many resort hotels we have access to around Japan, guide you every step of the way to prepare for your trip, and support you for the entire time you're there.
Our goal is to make sure you have the best possible experience in Japan!
For Eligible nationalities, we offer short-term Paid Winter and Summer Resort Internships around Japan.
For most other nationalities, we offer 2-6 week Cultural Programs (which include unpaid internships) in various industries in Okinawa and Kobe.

COMPARE PROGRAMS' COSTS, CONDITIONS, AND CHECK YOU'RE ELIGIBLE
Why Apply through Us?
Normally, getting hotel internships in Japan as a foreigner can be very difficult. Over the past 10 years we have forged relationships with many of the best ski and beach resorts and hotels in Japan, so getting internships has never been easier!
The best thing about Japan Internships is that because the hotels pay us to bring you over and support you, having our support is practically free. We don't charge you anything other than a small 10,000yen ($100) fee which includes orientation and transportation to your workplace, which we collect from you after your arrival in Japan on our way to the hotel/resort.
Our programs are the perfect way to spend the 1st few months of your working holiday in Japan. You'll gain valuable international work experience, make new Japanese friends, learn the language, and have enough money afterwards to explore the country!
Apply for our Programs:
Short-term seasonal paid positions, working in Hotels/Resorts around Japan.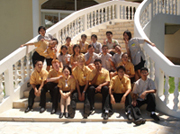 Combines Japanese language study, unpaid internship, & sightseeing all in one!
(Kobe & Okinawa only)