Apply for Internship Programs in Japan
Simply apply on this website, and we"ll help you source, apply, prepare for, and participate in an internship at one of many exciting hotels/resorts all around Japan.
For Eligible nationalities, we offer short-term Paid Winter and Summer Resort Internships around Japan.
For most other nationalities, we offer 2-6 week Cultural Programs (which include unpaid internships) in various industries in Okinawa and Kobe.

COMPARE PROGRAMS' COSTS, CONDITIONS, AND CHECK YOU'RE ELIGIBLE
Why Use Us?
Our programs are the perfect way to spend the 1st few months of your working holiday in Japan. You'll make new Japanese friends, learn the language, and have some money saved up afterwards to spend on traveling around the country!
If you meet our Eligibility:
• you'll be considered for an internship at the many hotels/resorts we have access to around Japan,
• we'll help you every step of the way to prepare for your trip, and
• make sure you have the best possible experience while you're there.
We strive to assist all interns to the best of our ability at all times.
Short-term seasonal paid positions, working in Hotels/Resorts around Japan.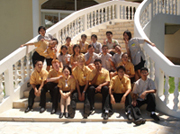 Combines Japanese language study, unpaid internship, & sightseeing all in one!
(Kobe & Okinawa only)