Positions in Okinawa Starting later this month and in May.
Apply now!
Looking for Internships in Japan?
We help Working Holiday Makers from around the world secure short-term seasonal Paid Internships in Hotels / Resorts around Japan.
For those who are not eligible for our Paid hotel/resort internships, we also offer short-term (usually 2-6 weeks) Cultural Programs in Okinawa, which include Unpaid Internships in Various Industries.
Applicants for our Paid Hotel / Resort Internship programs must be eligible for a Japanese Working Holiday Visa. But what exactly is a Working Holiday?
Working Holiday Programmes are designed to foster young people with global perspective and enhance friendly relationship between Japan and partner countries/regions.
Since the Working Holiday programme is intended to promote greater mutual understanding, the applicant's primary aim should be to holiday in Japan. The programme is not designed for persons who mainly intend to work or study in Japan (for which purposes the appropriate visa should be sought).
To fully appreciate the many different aspects of Japan, it is advised that the working holiday applicant moves to different areas within Japan at approximately 3-month intervals.
What are the Advantages of Internships?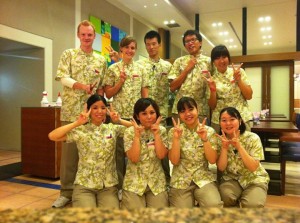 Internships are valuable as a means of helping students to:
With the rise of globalization, exposure to international business and culture is becoming a necessary and valuable experience for graduates entering the job market. More and more, employers are looking for graduates who are self-confident and knowledgeable of a multicultural world.
Japan Internships are a valuable asset for the promotion of mutual understanding and friendship between Japan and other countries. They are a unique opportunity to experience the Japanese culture and workplace, while gaining valuable experience and Japanese speaking ability in the process.
> Learn more about our Programs!
In Partnership With
Mentioned on